Happy Sunday!
This is Jen from
Positively Learning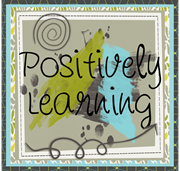 As we get to know our students' strengths and areas of growth these first few weeks of school, you may need some engaging learning tools to use for pre-assessment OR those early finishers :)
Here's a throwback post full of freebies and ideas using one of my all-time fave math tools (and my students!)
Double Dice & Freebies!
Happy Manic Monday!
I report back to school THIS Wednesday!!!
Very mixed emotions...excited to get back to a routine, wear my new outfits, & can't wait to meet the new teachers, but I'm not ready yet! I still haven't bonded with my Silhouette as much as I wanted, never added custom categories to my TPT store, haven't switched all my freebies from Scribd to Google docs... I still have a lot of projects left! Yikes, anyone else feel the same way?
Before I rush off to tackle my to-do list, I wanted to link up withClassroom Freebies to share a Manic Monday freebie I'm REALLY excited about:
I finally bought a set of Dice in Dice! I

♥

them!
My students have always enjoyed using dice...I've snuck in some pretty tricky math concepts because I used them! Sadly, last year I had a student who became obsessed with them. It started off fine, but by November we had to put the dice away. Note to self: share this with his new 2nd grade teacher.
Do you think I need more?!
I actually have more, tons more...during reorganization this summer, I added dice to my math centers and purchased an entire set of those mini containers to store 2 dice.

I learned that from Pinterest :)
Please click here to download your own set of Dice in Dice recording pages. I printed them on colored paper & inserted them into plastic sleeves to use with a dry erase marker.
If you don't have "dice in dice," you can just roll 2 separate die.
Don't forget to visit CF for more freebies!
Thanks for reading! Have a super weekend :)